Yesterday as I sat in my car studying my grocery store receipt to make sure all of the member discount and sale item prices were correct, I realized... it's time to make a plan. Sure I do my best to find discounts while grocery shopping and I only buy myself new clothes when I absolutely have to, but there's a lot more I could be doing to save money. So, I decided to make a list and I'm going to do my absolute best to stick to it.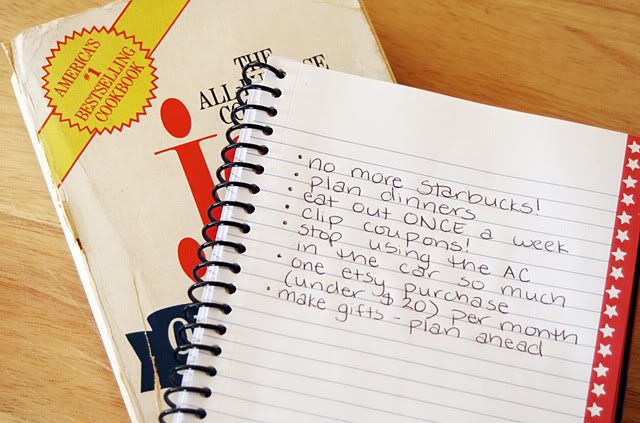 I know that most of these seem obvious but I think it's important to remind myself sometimes what I could be doing to save more. When I look at this list I'm almost a little ashamed. Do I need to go to Starbucks? No! I can buy a 32 oz. can of coffee for what it costs to buy TWO coffees at Starbucks. That can of coffee lasts months. It's important to put that into perspective once in a while.
Eating out less often, clipping coupons, and planning meals is also extremely important. My new plan is to make large dinners a few times a week so I have leftovers for lunch and possibly the following night.
As far as my car goes... I DO NOT need to be using the air conditioner so much! I could save some gas if I just suck it up and roll down the windows instead.
As far as cutting back on fun little purchases... Etsy makes it really difficult! I don't buy much on Etsy but when I do, it's usually always an impulse buy. It's time to limit those impulse buys to once a month!
Lastly, I love making gifts, I really do. My problem is, I don't plan ahead. For example, I'll know I have a birthday party to attend in two weeks and what do I do? Wait until a day or two before to figure out a gift. By that time, buying it is just easier. So... close friends and family, get ready for more handmade goodies from yours truly!