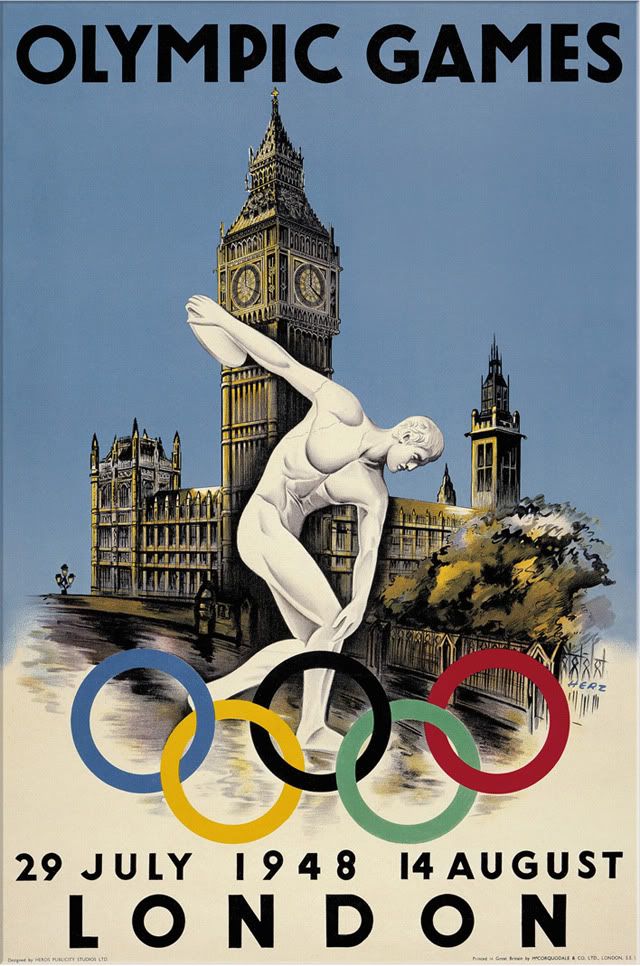 Are you guys excited?! I am! I've always really loved the Olympics and to be quite honest, I think it's because I've never had cable and when the Olympics are on, there's always something entertaining to watch. I'll definitely be watching the opening ceremonies tonight while doing some cooking. I entered a chili contest at the OC Fair and the judging is tomorrow. It's going to be a fun weekend! Now, in honor of the Olympics, I've put together a very special Olympic-themed list this week...
This Olympic rings necklace DIY is so cute. I love how small and simple it is too. You could really wear it anywhere.
If you're looking for something to wear during the games to show your Olympic spirit, check out this
tank top
featuring the vintage poster above (photo found
here
).
This Olympic-themed party is full of adorable decorating and food ideas that would be perfect for kids or adults. I especially love the Olympic rings made with crepe paper and styrofoam.
How about a London-themed print to commemorate the Olympics this year? I love the colors and the vintage feel of this one.
Last but not least, my weekly wrap-up wouldn't be complete without one of my favorite components... good food! Take a look at this photo gallery featuring some of London's traditional dishes!
Have a great weekend everyone!